Martin Mainer
Martin Mainer
28. 6. — 1. 9. 2013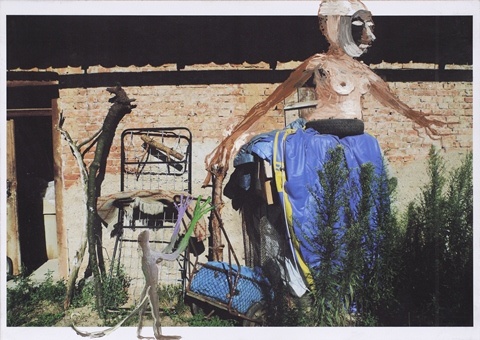 Martin Mainer
My interest in the history of the Slavs has already lasted for a few years... one of the greatest texts about our history is Antonin Horak´s book "About the Slavs differently" – it directly opened my eyes, sooner aroused confusion, doubts, afterwards smile, nod. The book highly inspiring to me, and not only for the perception of Slavic history, but history in general... also who wrote it and why it is so important to know it or to make it up or hold back... as we know, or we can see in the media – it is formed by words and images before the eyes of us all despite real events... it´s the same all the time... this simultaneous, often with absolute heartlessness written and presented sci-fi, but for all the people on the Earth it has far-reachnig devastating consequences... even there are those, who think, that this can be done only by beings, who absolutely lack any emotions, love and who are not capable to love anybody. A non-human race, which controls entire contemporary "history", loves killing and brooks of blood (only in the 20th century died in the wars around 200 million people)...

... sometimes the title of the exhibition becomes the motto... a word mantra, which will encompass and ideologically pt together the whole cycle and when it is repeated in mind there the movements of the soul and stain of the image surface and "coincidences" are attached and the door of inspiration are opening...

...meanwhile, at the time of writing text, I am also considering the installation of the exhibition – down to the basement of Špálovka I want to install paintings from Vision for you and remaining space of the ground floor and first floor I will try to fill in by the Slavic cycle, Home alone will not miss...

... paint topic of my paintings is a view on objects and experiment to paint them per colors similar, usually a bit enlarged... then after a long time of studying act according to a live model... of course "mantra" itself or parabolic, poetic expression of the theme epic of Slavs, a common wood or stuffed bird becomes a sing in the images, symbol, which may or may not be for me or viewer poetically and symbolically readable – I can even try to express it by words... sometimes I do it for myself, but it is just a short, not very interesting poems like – tits are sitting on a branches, blue is good etc. and I let the picture to lead me, to say when, where and how I should continue...

The chair of childhood, that gives me a hard time, it is difficult to continue, it is like I kneaded dough or on the contrary it kneaded my own hands and do not let me go on, always just a step forward, one time the space shows me the way, once in a while it hardens under my hands – so I say to myself, does the chair want something?, or why I ever began something so weird and difficult...I toil with a perspective and round shapes, look for wood, metal tubes, I have to exaggerate, I increase as always – I am forced by a closely look on the model and detail, which is all the time breathtaking and you cannot get in shape then enlarge it, simplify, paint it completely different with convincingly similar expression...I let the color freely nascent, I am interested in approaching to visible and relationships of similarity...chair becomes a chair...I solved background only in a closed circle of chair lines and later it confuses me and I cannot get somewhere...I look for overall image quality, which I am able to feel, see and stop painting with feeling, that it is just enough...I do not know at all what was the reason of chair to perpetuate, but it quickly integrated into the program of Slavs...is not an old school chair "our" part, everything is our part, everything what is, was and will be...I had an inclination to paint on a blank white undercoat and somehow I did not want birds nor sticks...painted chair from container stands in the studio for years, actually it was originally object for installation and exposure...a look on a chair and attempt to "represent" it took my breath away for a whole painting, I almost give it up, hardly get to the meaning of background, perhaps the chair wants to built the "Good" exactly on this, finally it is blue...

The last four paintings have been created in Limuzy, where just today I finished sewing lettering Amudarja from ash twigs, together with Nina, who stood behind the picture, we passed the needle by a point, Nina, of course, also lay and stood as a model...in Žižkov I painted pine, branches laying on each other, two canvas with buckets, chair and painting with many birds and pasted pictures, but this one got out of control in the end and entered into an impasse...but I do not give it up...

... paintings in catalogue and also in the exhibition are compiled from trivial things and their "suggestions"  and freely continue in Jihlava´s cycle Bushes...weed, pieces of dead trees, the Slav Epic, stuffed birds, attempt on a couple of quick acts, some of them are related, not only just for using thin brush, to the self-portraits on the canvas Small mirror (see catalogue from Jihlava), which was rising in parallel with the completion of Vision for you...sometimes I took small mirror and glanced at myself and made a face and than nothing for a longer time and I continued with this like two years, the last head in the left corner is from the photo from Thailand, I bow, play draughts with a little girl during a refreshment stop on moped trip on eroded dirt road through jungle...

...one of the first paintings was a cut piece of small ash trunk with a few branches, reminding me a baby crawling on the ground...on the other canvases, for example on the Still life with pipe, there is even more little pieces of wood, branches with their shadows, sometimes charred, often trimmed...I put a model on the canvas lying on the ground and painted close beside and the same with a pipe and lighter – it can be called "close painting"...sometimes I traced a shadow at first and after that I squeezed a branch into it...I was allured by feeling, that those branches are beings, once alive...still life – natur morte, frozen in time, lying quietly... sleep tight...

...I made an underpainting of several canvases in the summer of 2011 by similar ground color as for Ships on horizon in 1991 – this color not color fascinates me – I mix it from ocher, black, yellow, green, blue, brown and white... mud... this became a ground color for many paintings... when I was coating in the garden of Limuzy, I used a paint roller and I immediately enjoyed these easily forming tribes with light shining through them... later in Žižkov I used this mud for some other "Epic"...this color fit me to the misery of Epic, ruin from a sense of stolen history, its elegance, maturity and peace of knowledge, proud of it – concealed glory of Slavs, who write words by twigs – beechmast – long ago than came illiterate conquerors, whether it was anywhere in Europe, who from them - farmers,  ploughmen, craftsmen and builders, living in peace – had made slaves...

...the language of old neolithic people – it sounds in our years till today, we still speak by it and that is why we understand to old lettering...their patron is a man on horse killing a dragon with a spear at the down of history - St. George is an ancient symbol of an old Slavic empire´s victory over the Middle Kingdom, many of the millennium later he was appropriated by Christianity and became a classic myth – a fairy tale about prince and a dragon...

...mud color symbolizes birth, revival, purity, lotus and sense, that the lion wakes up...it is great for placing colors, consonance with it has a special atmosphere, there is a lot of mud color, it holds canvas as well as a motto, it belongs here, I have to avoid of it, but I still use it from time to time...trees themselves came with a roller and I tried also, like other current masters, a quick "thing"...then but as usually i could not resist and started to drill in trunks and find the meaning of their existence and year met a year, I out of spite tried to describe tribes lines, commas, as well as letters or numerals by a thin brush densely dipped into a color...I was looking for space of branches...I strived for a light of background behind the trunks of the forest...I was searching for a reason why to paint a tribes and it hardened under my arms... Long time I slowly progressed and individual days were attached together, but still there was nothing...then one forest went in February 2012 to the exhibition in Jihlava, I continued further two at once, but paintings dragged me somewhere I did not want to...then in the autumn I found near the road in front of the house a torn limb from an oak tree with still colourful leaves, I dragged it into the yard and used it as a model, so I put another "oak" coat, another interspace, and suddenly the twigs started to be colonized by birds, squirrels and scrums of commas, spots, shapes of animals, leaves and somehow it started to play a little, as I felt it should...I had to sit, stand and pull away this transformation...exhibited Forest after arriving back from Jihlava went under a knife soon and served as underpainting or subspace for tits on a branches on blue...why the chickadee suddenly became almost main motive? I never had extra observed it, there are so many here, did I look at it ever...jump here jump there...study of seated, stuffed chickadees amused me, excited me, but it requests for some live, flying, other than this mangy, faded small crowd of dead birds on twigs, which I was holding in my hand as a model...photos of flying or taking off chickadees – ah - I was surprised by the novelty - revelation that I did not know, though it was all around...I experienced a similar feeling while I was reading Antonin Horak´s book, it is a form, it is a face, these are wings, acrobatic pilot, hunter, incredible beauty of the little bird...it became to me one of the main symbols of my Epic...smile...of course also squirrel, duck, woodpecker, buzzard and death...
 
...Amudarja, the sacred river of Slavs, AMU - DARJA - the first component of the old composite Ámu – is the original possessive pronoun in the 3rd fall, in czech n-ám, and the second component - Darjá means 'giver' (contemporary female name 'Darja' - donating children). Thus, the entire original name means 'us - donor', probably because this river by its flooding from Pamir Mountains "donated' to these first farmers a harvest...PA – MIR- if nothing else, this name refers directly to 'homeland' of neolithic ancients Slavs. The prefix 'PA' means our "Pra" angl. "Aged" and the root of designation PEACE means 'world - home - homeland' as seen from the Russian. So designation PAMIR = 'ancient homeland' the original home of ancient Slavs. Similarly HIMA-LAJA (HIMA – winter, LAJA – lie as Lyso-laje, Viza-laje etc.), DUBIA, LADAK, SYR-DARJA… just because of these shocking meanings is worth to read Horak and the book is full of them! (see in Horak, page 292).

Our history, and how we think that we know it, did not write Slavic historians or monks of ancient Slavic worldview, that is clear, neither Cyril and Methodius, although both certainly understood and were touched by the maturity of Slavic culture in Great Moravia... the book 'About the Slavs differently" surprised me by its comprehensiveness, amount of new information and mainly credibly submitted history of Slavs, which is confirmed by many other sources, stones, statues, tables, and especially language, our native language...on our "language', system of syntax, morphology and the way how we make a sound of words (Germanic guttural 'Kent' and the Slavic 'Sato') is based a great and unappreciated work of Antonin Horak...

...amazing! Anthony!! Thanks a million... "strč prst skrz krk" nontranslateble sentence without vowe…word for word - stick your finger through the neck...

... I red a book for several times and I still open it sometimes and try to grasp the power, which goes from it...the silent joy...the consequences arising from it...theories, which Horak creates, are moving and also rejoicing by its inappropriateness...classic underground...

Title of the exhibition landed to my head after first seeing the heroic work of Alphonse Mucha at Veletržní palác...meanings and reasons for painting each of Mucha´s work are another pieces of the puzzle and in Mucha's age perhaps still living memories of our ancestors...today...who else understand meanings of his paintings?...many people and certainly all of my students had no idea what it means Rujána – german Rügen for the Slavs (it comes, in Slavonic and till today in some of the live Balkans languages, from 'rut' - plowing ... rujáč – oráč - plowman)... what does it mean, how important and sacred place for millenniums it was (German archaeologists say, that on Rügen is all Slavic - from topsoil ended the German Middle Ages up to the magma, moreover, also in Berlin – therefore is called Berlin and its emblem is a bear)...brlín, "brloh" – lair, in Czech and Slavic - a place where the bear spends the winter...therefore Adolf ended very quickly excavations under the Marienkirche in the 30th years - archeologists did not find, as they had expected, an ancient Roman forum as Duce´s archaeologists in Rome, but a Slavic settlement...Rujána - Rügen, Dresden - Drážďany - Drozdov, Leipzig - Lipsko, Chemniz - Kamenice...etc etc...Rügen for the original European agricultural Slavs means the same as Mecca for the Arabs with annual pilgrimage and celebration of life...I could actually say that the majority of visitors of the exhibition has no idea what is going on in Mucha´s paintings and why did the author paint them...they do not know own history... who do not knows history does not have a future...that is why the governing classes so happily and always change history to their own image... manipulation of history has fundamental importance for the present and future...who is in power has the ability to manipulate the collective memory...subjugated ethnic group is deleted from memory or from history...classic and very successful system, how to weaken some ethnic group and manipulate it...I do not know exactly, when it was done, that almost no one here knows the history of their ancestors, but it is a sad fact...allegedly we came from east swamp in the early Middle Ages...but it is interesting that we inhabit so large contiguous territory on the land of Earth...otherwise the biggest...how is that possible? Well, because we have always populated it...

…the reason why I am fascinated by the history of Slavs, is similar to the reason why I am fascinated by the other extinct or destroyed cultures (damaged more or less by the same conquerors, just a little later ...) in America, Africa and Australia and of course the ancestors, the thing, where are we from, who we are and where we are going to...I just feel, who is the oppressor and who is oppressed, where is the truth and where truth becomes just a hundred times repeated lie...I am on the side of the oppressed...of course...conclusively...

...the reason why the Empire successfully tried to erase or trivialize and degrade culturally and ethically mature ethnicity is shrouded by the nature of things and a past time and it is  anyway almost a done deal...

...anyhow the Slavs are like a mythical bird Phoenix and many times in history they have proven, that is not so easy to destroy them completely and there were many efforts, they have tough root, incredible potential, it seems to be done, and suddenly St. George kills the dragon and all at once they are revived again...'revivalists' ridiculous, disgusting, here they are again...
 
...unfortunately, after a while of someting like taking breath, naive trust in democracy and freedom, the Empire is here again and its flag flies at Castle...Adolf would be happy...
…maybe just that multiple dragon slayer in the east, Curil Plenkovic, bright sun, with whom grandfather once had lunch in the steppe, yet failed to destroy, and that he was on his knees – lo – he somehow – "come off it" as so many time in recent history and also today with dread bluster in media of Empire... he rises from the dead, he is back again, and has a voice and power to scream, that blighter, and he swell more and more...yeah, Curil Plenkovic...

...history commonly taught in elementary schools, secondary schools and universities is a history of drafting and forced to write by the Catholic Church, hence the German Empire. Ancient and antique memory is eradicated and in fact the only source for our general history from the early Middle Ages rested on German Cosmas chronicle...expediently written document, purely from the perspective of the "Reich", Kosmas is German and he was hired together with his entourage of German monks to collect all the old Slavic relics around kingdom, chronicles, any document or sight and burn them, destroy and delete from historical memory and subsequently write his mendacious chronicle, which is by using copies, transcripts, pseudo scientific studies, miserable Jirasek, movies and comic strips pushed into children´s heads from preschool age...therefore meanwhile the lie and hate win and history of Slavs is suppressed and withheld, trivialized or denunciated...even recently in our media by known contemporaries – idiots from film industry– its descendants are ridiculed and offended...

…my paintings are such a curious reflection, or sensational expression of this fact…slightly sad fact – there are flying stuffed birds, dead oak leaves on fallen branches, chickadees, nudes of my wife and love to the nature...superficially there is nothing about history of Slavs on my paintings...but when we perceive depicted as symbols and substitute my own explanation or energy of mantra and my amazement at our history, then maybe something will appear and my, for many people entirely incorrect worldview, will start to flash...perhaps somebody will be amused, or will not deal with that, I understand, perhaps I managed to tie pictorial codes, which human perceive in the canvases, in an interesting pattern and someone will like it...

…image has as a man his own life and by his way he matures or is rotting...we humans are replaceable, we are disappearing into oblivion, and so it is the same with our sense or idea that we put into paintings or anywhere else...something remains here after all...and yet revolves...
…my father was talking about our history to me from time to time, probably just by the way, and he often used a locution (translate word for word)'go to be staffed' or 'go to grove'...today at work with stuffed birds I better realized what it actually means - it is thick enough...but my dad did not realize in his naivety and kindness the cruelty of this saying...I do not know better sculptures of birds...caught, eaten, stuffed...

…however on canvases there are not just stuffed birds...here and there are also live flying chickadees and mainly there is a live woman – "Živa"(old name of Godess) and the author is alive...and also, painted corpse on canvas is full of energy from painter and has a desire or urge to be – to live, it is as live as a live model or equally dead...or comes to life...she is perhaps often almost immortal...can the painting talk about something dead or live?...are the illusions, imitations and from them arised signes and symbols dead things or they are able to live their own life in the minds and hearts of viewers?...or they are just dully staring from the surface of painting...I do not know, they are not fully alive, perhaps they are thriving...who can see them is alive...in all the living everything is alive...

Martin Mainer, April and May, 2013.


Show more
Show less
Galerie Václava Špály
Národní 30, 110 00 Prague 1, Czech Republic
Open daily 11 AM – 7 PM
E-mail: info@galerievaclavaspaly.cz
Admission 40 CZK
For students 20 CZK
/ seniors and disabled holders 50% discount