Vladimír Kokolia
Power Transmission
11. 11. — 31. 12. 2011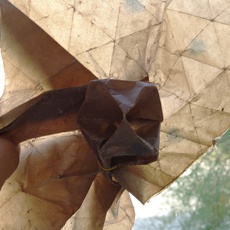 The methods of power transmission, as rendered by the painter and printmaker Vladimír Kokolia, will be revealed at the Václav Špála Gallery, Prague
Twenty years ago, in the first exhibition of work by the winner of the Jindřich Chalupecký Prize, Vladimír Kokolia, on the first floor of the Václav Špála Gallery, projected an upside down view of Národní třída onto his paintings. We now have another opportunity to see Kokolia's paintings in the same space.

The artist, Vladimír Kokolia, together with the exhibition curator, Lenka Lindaurová, has taken advantage of all the possibilities offered by the unique space of the gallery to present the full power of his paintings to visitors. He has invited Hana Pýchová as a guest, to exhibit a drawing from 1999, which she made on the sensitive layer of film using the surface tension energy of the skin (Kirlian photography).
 
'Vladimír Kokolia, a professor at the Academy of Fine Arts (AVU), Prague, is also a blogger, a continuator of the twentieth generation of the traditional taiji (tai chi) of the Chen family, and a proud holder of the 2007 'Miss Compost of the Czech Republic' title. In recent decades he has increasingly limited his exhibition activity. In collaboration with the Jindřich Chalupecký Society, PPF Art is now presenting his work in a current, representative form,' says Lenka Lindaurová, the curator of the exhibition.
Vladimír Kokolia on the 'Power Transmission' exhibition at the Václav Špála Gallery
'Power transmission is a term from taiji relating to everything that can be done in an encounter with power. We want to process power, transform it in our work. Power is expressly un-intellectual. One cannot make up things about it. It is a simple fact. We can only guess about its background and significance. In the course of one's life, one develops methods to intuit momentum, to accept power, clear ways for it, accumulate it, and return it. At this exhibition I am exhibiting methods of transmission.'

Show more
Show less
selected individual exhibitions
2009
'A Line Has Two Sides', At Home Gallery, Šamorín (Slovakia)
2008
'Bordel', Galerie Havelka, Prague
2006
'God', Galerie Ars, Brno
2003
'House of Art', Dům umění města Brna, Brno
1998
'Breasts', Mánes, Prague
1997
'Kokolia – Drawings', Nová síň, Prague
1995
Langzaam', Knoll Galerie, Vienna
1994
'Het avontuur', De Vleeshal, Middelburg
1993
 'Work', Galerie u bílého jednorožce, Klatovy
1992
'Uprostřed pole' (In the Middle of a Field), Galerie Behémót, Prague 
1987
Sto hodin na Bidýlku' (A Hundred Hours on the Roost), Galerie Na bidýlku, Brno
Galerie Václava Špály
Národní 30, 110 00 Prague 1, Czech Republic
Open daily 11 AM – 7 PM
E-mail: info@galerievaclavaspaly.cz
Admission 40 CZK
For students 20 CZK
/ seniors and disabled holders 50% discount