Wu Yi
Prague Summer
28. 11. 2013 — 5. 1. 2014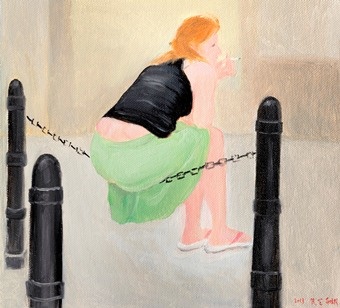 The Prague Summer exhibition will present Prague in summer, the Czech landscape and the charm of Czech women through the eyes of an extraordinary Chinese artist, Wu Yi.
WU YI
PRAGUE SUMMER
28 November 2013 – 5 January 2014
Wu Yi – A Warrior of Art

(extract from the catalogue – published on the occasion of the exhibition in the Václav Špála Gallery) Wu Yi is a Chinese, and an absolute painter and accomplished professional. Every field of human activity has its movers who further its progress and challenge the rules but have respect for their ancestors. Wu Yi is such an art pioneer, one of the most radical artists in the history of Chinese art: a writer, ink painter, oil painter, ceramics artist. We in the West can learn a lot from him. He is strictly self-disciplined, devoting his mind and body and all his personal life to his only ambition of being a painter and living with art. There is something about him that reminds me of the mighty painter Václav Boštík. Indeed, Wu Yi fell in love with Boštík the first time he saw his paintings.

Wu Yi is extremely gentle, but emphatic. He is friendly and educated. He knows the art of listening and discovering the essence of things. He is gifted with a very rare style of humour, so much loved by us Czechs. His deep feelings live in symbiosis with an analytical mind. And he devotes everything to his art of painting. And has good wishes for everyone! And he is helping!

The painter Wu Yi simply fascinates me. He is a great man, a great painter. Professor of mural and contemporary panting at the CAFA University (Central Academy of Fine Art) in Beijing, where he previously studied.

There are only a few visual artists in the West who are able to paint with ink on paper – a traditional Chinese technique requiring a consonance between thinking and motion. By the same token, only a few Chinese are able to use oil or tempera on canvas – a traditional western technique. Wu Yi has a command of both. His paintings can be inspirational for Czech artists; they are true and gentle.

Wu Yi is an embodiment of an old Chinese Master who is ingeniously changing the history of ink painting. He gives us an image of what a Chinese scholar looked (and looks) like, and we thus have an opportunity to examine what we learned about Chinese scholars, for example, from the Songs of Ancient China and perhaps other sources. They have at home the "four treasures of a scholar's studio", including a brush, inkstick, rice paper and inkstone. Since time immemorial, Chinese scholars and men of letters, whose ambition was to attain a position of office and serve the World under Heaven, the ruler and the people, have been training not only the general official skills but also the basics of philosophy, ethics and aesthetics in the never-ending process of self-improvement. This included the learning of artistic skills, such as calligraphy, the art of playing the qin zither, painting, as well as literary art – the four arts of Chinese lyricism. The art of reading, listening and watching also belonged to this. A Chinese scholar should be able to warm people's hearts with a beautiful picture but also with fine verses or a small piece of prose.

In this book, I hope, you will find evidence that our traditional Czech inspirational concept of how we see ancient China is still alive, not having faded away and not having been blurred with the tangle of motorways and modern cities with their glass skyscrapers designed by western architects and all the hustle and bustle seen in pictures from modern Beijing or Shanghai; you will find evidence that there are still people that keep seeking the ordinary man in the street, whom the Czech writer Karel Čapek also used to seek. It is interesting to note that in fact the genre pursued by my friend Wu Yi has much in common with Karel Čapek and his Letters from abroad. Travel observations are said to be an old Chinese tradition, developed by the 11th century poet Su Dongpo, author of the two lyrical poems in prose entitled Odes to the Red Cliff, as well as by the playwright and novelist Li Yü, an impetuous wanderer from the 17th century, author of the Carnal Prayer Mat, recently brilliantly translated into Czech by Professor Oldřich Král. During their journeys for business or leisure, these scholarly men recorded things that might seem commonplace – how to make soup, how it rained yesterday, or about fragrant bacon. Perhaps to counterpoint this, they often used poetic language, one or two noble words, a figurative expression, a hint. Their perception of the ordinary things and events of life and the ability to elevate them to the level of the eyes and mind is perhaps what makes them so humane. And to be humane is what all of us should aspire to be.

I am glad that following the creative stays in Germany, France and Japan, the Czech Republic is the fourth country that will have the good fortune of meeting with the views of a Master of the world's oldest living culture.

Zdeněk Sklenář, Curator, Prague, 10 October 2013


Show more

Show less
studios
1993
Graduated from the Department of Chinese Painting at the Central Academy of Fine Arts, where he studied under Professor Lu Chen and received a master's degree. He is currently a professor in the Department of Mural Painting at the Central Academy of Fine Arts, where he is a postgraduate supervisor and the director of Studio 4.
 
1989
Graduated from the Department of Chinese Painting at the Central Academy of Fine Arts, where he received a bachelor's degree.
1966
Born in Changchun, Jilin province; inherited right of residence in Tianjin, Ninghe County Tianjin.
selected individual exhibitions
2013
Prague Summer (Václav Špála Gallery, Prague, Czech Republic)
2007
Simplicity - Exhibition of Works by Wu Yi (Galerie 99, Aschaffenburg, Germany)
2001
Exhibition of Works by Wu Yi (Gallery of the Academy of Arts & Design, Tsinghua University, China)
1998
Exhibition of Pictures by Wu Yi (Shenzhen Art Museum, China)
1993
 Exhibition of Works by Wu Yi (CAFA Gallery, China)
 
selected collective exhibitions
2013
"Portrait of the Times: Thirty years of Chinese contemporary art" (Power Station of Art, Shanghai)
"On China - Nomination Exhibition of Leading Contemporary Chinese Ink Wash Artists" (Casares Museum, Italy)
"New Dimension of Ink Wash Painting – Critics' Nomination Exhibition" (National Art Museum of China, Beijing)
"Original Journey - New view of Chinese contemporary art" (Hong Kong Museum of Art, Hong Kong)
"Parallel Exhibition to the Venice Biennale" (Venice, Italy) 
"Ink Again - Exhibition of Contemporary Chinese Ink Wash Painting" (Today Art Museum, Beijing, China)
2012
"Exhibition of Modern Chinese Ink Wash Painting" (Hamburger Kunsthalle, Hamburg, Germany)
"Exhibition of Modern Chinese Art" (Palais des Nations, Geneva; Swiss Exhibition Centre, Basel)
"Exhibition of Modern Chinese Art" (Saatchi Gallery, London, UK)
"Revival of Tradition - Chinese Contemporary Art Exhibition" (La Galleria Pall Mall, London, UK)
"Dimensions - Analysis of Three Art Cases - Canton Triennial" (Guangdong Museum of Art, Guangzhou, China)    
"Modern and Contemporary Chinese Ink Paintings in the Past 100 Years - Carrousel du Louvre" (Louvre, Paris, France)
2011
"Contemporary Art from China" (University of Georgia Museum of Art, United States)
"Chinese Description - Exhibition of Contemporary Art" (Today Art Museum, Beijing, China)
"The Idea is Before the Brush - Contemporary Chinese Ink on Paper"(Eli Klein Fine Art Gallery, New York, US) 
2010
"Changing History: Exhibition of New Chinese Art from 2000-2009" (China National Convention Centre, Today Art Museum,    Beijing, China)
"China sex - Exhibition of Modern Chinese Art Studies in 2010" (True Colour Museum, Suzhou; Mingtian Gallery, Chengdu, China)   
"International Biennial of Chinese Ink Wash Painting in Shenzhen"(Guanshanyue Gallery, Shenzhen, China)
2009
"Matrix of Four Gates – Exhibition of Traditional Lineaged Contemporary Inkwash" (Today Art Museum, Beijing, China)
"Exhibition of Contemporary Chinese Ink Wash and Paper" (National History Museum of the Republic of Belarus, Historical   Museum of Serbia)
"Ink not Ink: Chinese Contemporary Ink and Wash Art Exhibition" (Warsaw Royal Castle, Hungarian Agricultural Museum, The National Museum of Contemporary Art of Romania, Sculpture Museum of the Croatian Academy of Science)                      
2008
"New Limits of Ink and Wash Painting - Exhibition of Modern Chinese Ink and Wash Painting" (Berlin Nationalgalerie, Staatliche Kunstsammlungen Dresden, Germany)
"Exhibition of the works of Li Jin, Liu Qinghe, Wu Yi" (Danish Centre of Art in Beijing)
"The Chinese Art of Affection" (Yuxin Gallery, Singapore)
 "The Path of Chinese Painting in the Contemporary Age, 1978-2008" (National Art Museum of China, Beijing)
"Tastes and Paintings: Clarification - Exhibition of Contemporary Chinese Ink and Wash Painting" (Providence University Art Centre, Taiwan)
"Ink not Ink - Chinese Contemporary Ink and Wash Art Exhibition" (Shenzhen Art Museum, Philadelphia Museum of Art, Beijing Today Art Museum) 
2007
"Life needs smiles: Exhibition of Works by Three Artists from New York, Moscow and Beijing" (Galerie Albrecht, Munich)
"Unity and Solidarity - The Chinese Version of the Exhibition" (Today Art Museum, Beijing)
"Chengdu Biennial" (International Exhibition Centre, Chengdu)
"Ink: The Monochrome World" (Tokyo University of Arts, Tokyo) 
"Focus on Ink - Exhibition of Contemporary Chinese Painting" (CAFA Gallery, Beijing)     
2006
"Meditation and Narration: Exhibition of Contemporary Art"(Artist Commune, Hong Kong) 
"Exhibition of Works by Wu Yi and Li Jin" (CAFA Gallery, Beijing)     
"Documentation Exhibition of Ink and Wash Art" (Nanjing Museum)
"Large Exhibition of Chinese Art Today" (National Art Museum of China, Beijing)
"21st International Exhibition of Asian Art (National Art Gallery, Singapore) 
"2006 - Documentary Exhibition of Contemporary Chinese Art" (China Millennium Monument Art Gallery)
2005
"Makeup: Large Exhibition of Chinese Theatre Arts" (Today Art Museum, Beijing)
"1985-2000: Experimental Ink and Wash Art Retrospective" (Gallery of the Institute of Fine Art in Shenzhen)
"Sino-Korean Exchange Exhibition of Modern Ink and Wash Art" (National Museum of Contemporary Art, Seoul)  
2004
"The Point, Radiation and Penetration - The transfer of visual expression from ink and brush" (Malaysia National Museum of Art, Kuala Lumpur)
"Images: Exchange exhibition between CAFA and Sydney Art School" (Gallery of Sydney Art School, Australia)
"Connecting the Classic and the Modern: Exhibition of new works by leading Chinese artists" (National Art Museum of China, Beijing)
"19th International Asian Art Exhibition (Fukuoka Asian Art Museum, Japan) 
"The Contemporary New Reality of Figurative Painting" (Shanghai Art Museum)
2003
"How to Explain the Word 'Ink'" (Artist Commune, Hong Kong)
2002
"The Light of Ink: Exhibition of contemporary ink and wash paintings from both shores of the Taiwan Strait" (Sun Yat-sen Memorial Hall, Taipei)     
"Sino-Korean Exhibition of Works by Select Artists" (Seoul Sejong Museum of Art, University of Suwon Art Gallery)
"Golden Harvest: Exhibition of Modern Chinese Art" (Zagreb Museum, Historical Museum Beograd)
2001
"The Real Colour of Ink – Exhibition of Contemporary Chinese Painting" (National Art Museum of China, Beijing)
"Twenty Years of Chinese Contemporary Ink and Wash Painting" (Guangdong Art Museum)
"Poster Exhibition of Contemporary Chinese Artists" (Red Gate Gallery, Beijing)
2000
"Large Exhibition of Painting from New China" (Shanghai Art Museum)
1999
"Second International Biennial of Ink Wash Painting in Shenzhen" (Guanshanyue Gallery, Shenzhen)
"Metropolitan Ink" (Guangdong Art Museum)
1998
"Uncovering Twenty Years of Contemporary Chinese Art" (Imperial Ancestral Shrine, Beijing)
"Liberated Ink: Exhibition of Six Modern Artists" (National Art Museum of China, Beijing)
1997
"Exhibition of Modern Chinese Sketching" (National Art Museum of China, Beijing)   
"Stars of the Century: Biennial of Chinese Art" (Toronto Art Gallery, Toronto)
1996
"The State of Contemporary Ink and Wash Painting in China" (National Art Museum of China, Beijing)
1994
"Test of Tension: Exhibition of Expressive Ink and Wash Painting" (National Art Museum of China, Beijing)
 
Galerie Václava Špály
Národní 30, 110 00 Prague 1, Czech Republic
Open daily 11 AM – 7 PM
E-mail: info@galerievaclavaspaly.cz
Admission 40 CZK
For students 20 CZK
/ seniors and disabled holders 50% discount